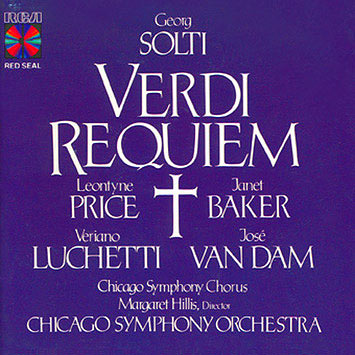 The great conductor, Sir George Solti was signed for a single project for RCA Red Seal, a new recording of the Verdi Requiem with the Chicago Symphony Orchestra.
The fate of the recording was touch and go after we lost our first choice for tenor, but we decided to proceed in any event because it was an opportunity to pair our legendary soprano, Leontyne Price, with the equally legendary British mezzo-soprano, Dame Janet Baker. They had never met, but quickly created a mutual admiration society and worked together as though they have been singing together for years.
I had never met Solti before, and I expected that he would be high-strung (as is much of his conducting), but he was extremely kind and rather soft-spoken. Every once in a while he seemed to make a face at me, as if to say, "Forgive me, my dear, but I have this terrible toothache." I believe that as soon as the recording sessions were over, he ran to his dentist.